Our first six locations were in the area around Perth (which is in Lanark County), near Ottawa, Ontario. (Our very first photos, of our first location in Port Elmsley, were on another roll of film and haven't been scanned in yet - they'll be coming soon!). These were all visited in one day, with Mark's mom, Jaki, as our chauffeur and guide. The day started hot and kept getting hotter - by the time we reached Carleton Place it was 35 degrees Celcius. The little Noteworthy harp held up admirably, however, staying mostly in tune despite frequent changes between air-conditioned car and sweltering outside.

Quest Stop #1 - Port Elmsley (Pike Falls), bridge on the Tay River, near Maud's B&B - photos coming soon

Quest Stop #2 - Smiths Falls, CPR Railway Bridge, and Lock

The bridge in the background has been in the "up" position for decades, and is
probably stuck that way. Needless to say it is no longer used by the railroad!
Although not in the picture, there is also a lock in the same location,
just behind where I was sitting. There were people and dogs frolicking on the
far side of the water, and a few people casting curious glances from the parking lot.
Quest Stop #3 - Kilmarnock Lock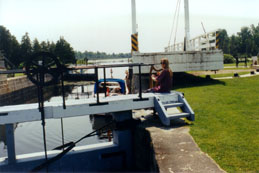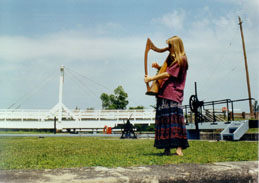 Good timing! A boat was going through as we arrived. As they were leaving
they asked me to play them out. So I got to play one-handed as I walked
beside the lock. This is where Mark's brother, John, works. The heat was
stifling, so the lock guys hung out in the shade when they weren't working
the locks mechanism. John signed our log book. Apparently this section
of the canal has a dark history - it had the second highest mortality due
to malaria while it was being built.
Quest Stop #4 - The Mill Dam in Carleton Place (bridge in background)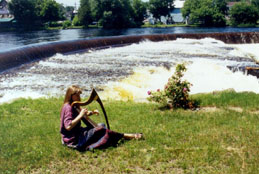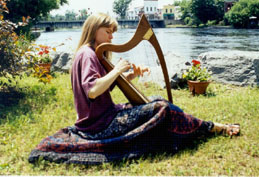 The bridge itself was noisy and full of traffic, so we picked this quieter spot, out back of the "At the Dam" restaurant, to play and take photos. We had lunch at the restaurant first with Mark's mom. One of the servers let us out the back door, after making us promise not to fall into the rapids.
Quest Stop #5 - Pakenham, old stone arch bridge on the Mississippi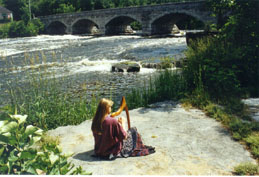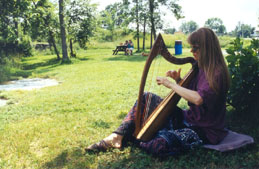 This was a beautiful spot, and if not for the heat I would have loved to play longer. The not-quite-as-pretty picture on the right (complete with garbage can) was taken to show that there were other people present. One of the ladies in the park was nice enough to sign our log book. I played some O'Carolan pieces and a tune called "Willafjord" - upbeat, cheery music for a rushing river on a sunny day.
Quest Stop #6 - Almonte dam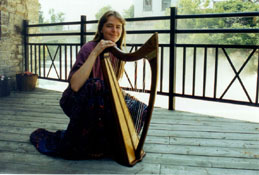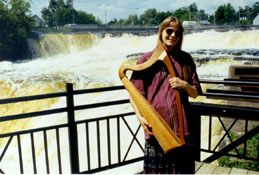 The dam at Almonte is an impressive site - almost too impressive, since it ended up being too loud to play! Besides which, most people were inside because of the heat, so there wouldn't have been much audience. Since we went all the way to visit it (and ended up exceeding our minimum 25 spots anyhow), we thought we'd still include it. There is of course a bridge nearby (not in photo).
Photo Gallery Sections:
Lanark County & Area Perth Parks Peterborough Lakefield, Buckhorn & Omemee