The main park in Perth, Ontario is called Stewart Park, and in it can be found a surprising number of foot bridges. More on the history of the park and its bridges coming soon. In the meantime, enjoy the photos!

Quest Stop #7 - Stewart Park straight foot bridge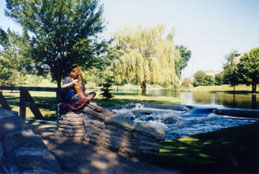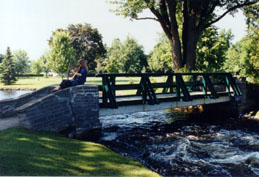 This was our first Stewart Park bridge. Mark used to go swimming
here as a little kid. Trying to stay balanced on the rough sloping
stone while playing the harp was a bit of a challenge.
Quest Stop #8 - Mill Street Bridge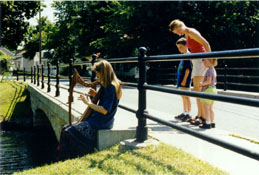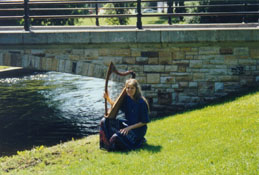 You can't see it in the photos, but there were kids swimming on
the other side of the bridge, despite the signs saying
"High Bacteria Count, Swim at Your Own Risk". We had a number
of people pass over the bridge while we were there, most notably
the mom and kids who stopped briefly to listen.
Quest Stop #9 - "Little Rainbow Bridge"


So called because it looks like a miniature of the Rainbow Bridge
(stop #10). This bridge arches beside what used to be the old box
factory, which has since been turned into condos. There is a pile
of rocks in the middle of the stream just below the bridge, which
is a great place to sit and sun (see below).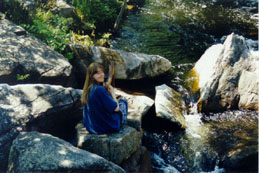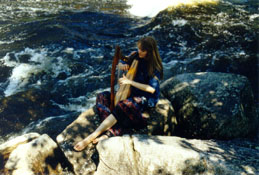 Quest Stop #10 - The Rainbow Bridge

This is not actually in Stewart Park, but very close by. It is a lovely
secluded little spot. The arch on this bridge is very steep, rather
disconcerting if you've never been on it before. It's not obvious
in this small version, but in the full size photo you can actually
see me playing at the top!
Photo Gallery Sections:
Lanark County & Area Perth Parks Peterborough Lakefield, Buckhorn & Omemee