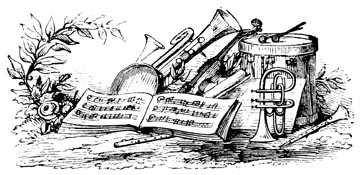 Other Services & Projects

The Celtic Harp Page & The Harp Blog

I have been running a non-profit educational harp page since the 1990's, called The Celtic Harp Page. All the links and listings on the CHP are provided free of charge. If you are new to the world of the harp, and want to find out more before you commit to lessons and/or buying a harp, check out the Celtic Harp Page FAQ.
The Harp Blog is dedicated to all things harp-related, and regularly features harp videos, events, harps in the news, and interesting tidbits about harp-related activity around the world: www.celticharper.com/harpblog


Arranging & Composing

Along with performing, I also write and arrange music. My books and sheet music for solo harp and ensemble are available through Chubby Sparrow Music. I currently arrange much of the music played by the Stringwood Trio as well as arranging for solo harp and other ensembles. If you have music you would like arranged for a small accoustic group (such as a recorder ensemble or small choir), or have hand-written music you would like transcribed into a professional score, feel free to contact me for more information. Chubby Sparrow Music also has a free music section, where you can download midi and graphic files of trad tunes for free.


Workshops For All Ages

Over the years I have run numerous harp circles and workshops throughout south-eastern Ontario, including workshops on Welsh music, arranging, Medieval music, singing with the harp, modes, and accompaniment styles. If you would like to host a harp workshop, or want to discuss ideas for a harp workshop or an early music workshop or demonstration, please feel free to contact me for more information.


Examples of Workshop Topics:
Arranging for Celtic Harp
Accompaniment Styles for Celtic Harp
Beginning the Harp: Basic Technique
Early Music (Music from the Medieval & Renaissance periods)
Ensemble Playing
Improvisation (Learn how to leave the paper behind)
Introduction To The Classic Modes
Introduction to Celtic Music (Including playing at sessions)
Rhythm (playing rhythmically, time signatures, rhythmic bass hand patterns)
Singing With The Harp

A Bit About Me

I am based in Peterborough, Ontario, and teach out of my home-based music studio. Along with the various groups I play with professionally, I also participate regularly in non-profit music events in Peterborough and throughout the Kawarthas, including the annual charity fundraiser In From the Cold.

My solo harp repertoire draws on a number of traditions, including folk, Celtic and early music from the Renaissance, Medieval, and Baroque periods. To this background, I bring a modern sensibility drawn from a lifetime of interest in all forms of music (from alternative rock to classical), and a deep appreciation of rhythm that comes from exploring dance music from many traditions, from Celtic jigs and reels to Paraguayan and Scandinavian traditional tunes.

I started my harp career on a tiny 22-string lap harp, taking lessons and attending workshops wherever I could find them (including as far afield as British Columbia and Somerset New Jersey). From playing for coffee in local cafes, to exploring the exciting and unpredictable world of live outdoor theatre, I went on to play at various festivals with several different Celtic groups, formed The Stringwood Trio with two other local musicians, and helped transform a small amateur early music group into what is now Hurly Burly, the well-established (and only!) Peterborough early music ensemble, that has been together (as of 2013) for more than a decade.

When not playing or teaching music, I spend my time writing novels, dabbling in poetry, gardening, hiking, and making my way through the copious shelves of books that adorn every room of my house. You can see a ridiculously detailed, comprehensive list of all my musical influences (past and present) here (updates ongoing).



Harp Quest 2002: In the summer of 2002, I participated in the "Millenium Harp Quest" project run by Harpers for Harmony. I played one of my lap harps and a lap harp borrowed from a friend at over 25 bridges and locks throughout southern Ontario. To find out more, click here (pictures, stories, timeline, and more).



Non-Music Projects & Services

While teaching and playing music are my main profession, I also write, draw, paint, and design and maintain web pages. A full list of all the websites associated with my current projects can be found in my contact information section.