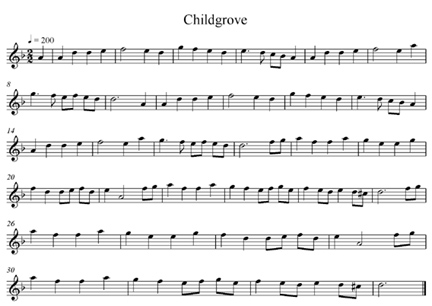 Childgrove can be played as an upbeat dance tune, or at a slower, more thoughtful pace.  The arrangement I wrote for our trio includes a counter-melody based on "The Foggy Dew", and is played at a medium march tempo, whereas English Country Dancers generally like it played at a fair clip.
The C# in bars 24 and 32 is optional; it can be played as a modal tune without lever flips. (I've included both versions in midi form on the Chubby Sparrow Site here).
The HarpBlog Tune of the Month is courtesy of Chubby Sparrow Music . For a printable version, right click on the picture and choose "save target as", or pop over to the Chubby Sparrow Free Music page for more detailed printing instructions (note: if you just left click and try to print directly from the browser, it probably won't print at the right size).