Okay, so it's not quite October yet. Thought I'd get a bit of a head start. It certainly feels like October around here; chilly, windy, leaves skittering everywhere.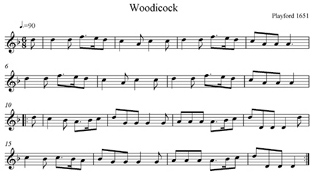 The HarpBlog Tune of the Month is courtesy of Chubby Sparrow Music . For a printable version, right click on the picture and choose "save target as", or pop over to the Chubby Sparrow Free Music page for more detailed printing instructions (note: if you just left click and try to print directly from the browser, it probably won't print at the right size).
Our early music group plays this one in a set with "The Old Mole".