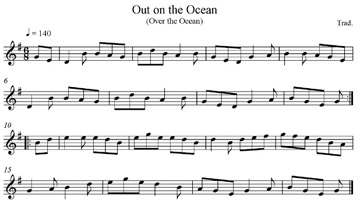 New Tune of the Month, courtesy of Chubby Sparrow Music (right click on the picture and choose "save target as", or just pop over to the Chubby Sparrow Free Music page for more detailed printing instructions).
Out on the Ocean is a popular upbeat session tune, and can be played in either a leisurely or more rollicking fashion.
It goes well with Rolling Waves, Geese in the Bog and Connacht Man's Rambles.
Also known as Mick Mulcahy's, O'Connell's Jig On Top Of Mount Everest, O'er The Sea, Out In The Ocean, Out Of The Ocean, Over The Ocean, Portroe, Split The Whisker, The Wind Is Over The Ocean.