Music to listen to by the fire while the snow whirls outside.
Harp & Arr. by Lee Che-Yi.
Once again it's properly winter here in the PeterPatch, with snow swirling merrily about outside. The snow first arrived on Tuesday. Concerned that it might just up and melt away the way it has every other time this year (it had been a disturbingly warm and wet winter up to that point), M. and I decided to take advantage of the stuff and dig out our snowshoes. So the past few days have seen us tromping through the snow, and coming home cold but happy to cups of hot chocolate. The cats, of course, are deciding that this is the perfect time to curl up under warm blankets. What has this to do with harps, you ask? Not much, I admit. Except that since this is a very quiet time of year as far as harp gigs are concerned, I'm able to dedicate more time to working on the update of the Chubby Sparrow Site, and to playing with Sibelius. January's tune is Brian Boru's March, because – well, because I just couldn't avoid it any longer. This is one of the very first tunes I learned on harp, and one that I teach to many beginners. It's easy to pick up because of its repetitive patterns, and it's a cheerful little upbeat march that works well on just about any instrument. Enjoy!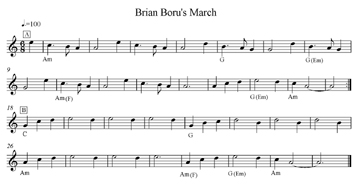 The HarpBlog Tune of the Month is courtesy of Chubby Sparrow Music . For a printable version, right click on the picture and choose "save target as", or pop over to the Chubby Sparrow Free Music page for more detailed printing instructions (note: if you just left click and try to print directly from the browser, it probably won't print at the right size).